Attentive to the world of fashion where it draws inspiration for his collections, Montagut is happy to celebrate with you the 30 years of the Festival of fashion and photography which will be held from 23 to 27 April 2015 in Hyères.
For this anniversary, the Festival welcomed as guest of honor: Chanel. It's Karl Lagerfeld who assumes the role of artistic director, accompanied from Virginie Viard – Director of the Studio of Creation of Chanel and Eric Pfrunder – Director of the image of the same fashion brand that will be presidents of juries of fashion and photography.
Pictured from left to right: Eric Pfrunder : Director of the image of Chanel, Virginie Viard : Director of the Studio, Chanel and Karl Lagerfeld.
In the program, 10 stylists and 10 photographers.
Here are some of the models made by the 10 stylists who have been selected by Grégoire Alexandre among the bolder in the fashion world, and who were photographed on the île du levant in Hyères. Their creations will be presented during a parade at a VIP jury with the actress Anna Mouglaglis, Caroline of Monaco, Princess of Hanover, or even Carine Roitfeld.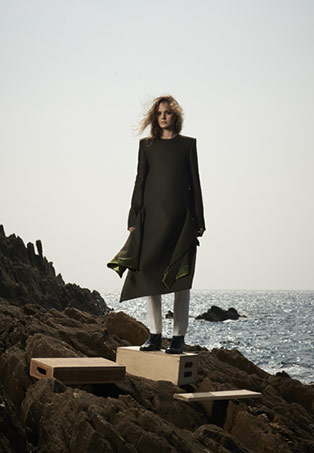 Annelie Schubert
Annelie Schubert
Coat apron in wool, closed by a leather belt on the back, draped elements
on the sides, satin finish. Right pleated pants. Vintage leather shoes end.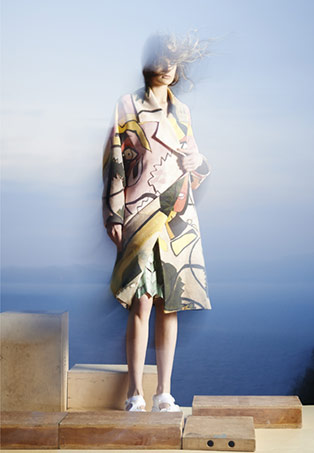 Wieke Sinnige
Wieke Sinnige – Coat wool screen-printed.
In printed Tyvek®, pleated skirt by hand with cuts. Stretch fabric sandals.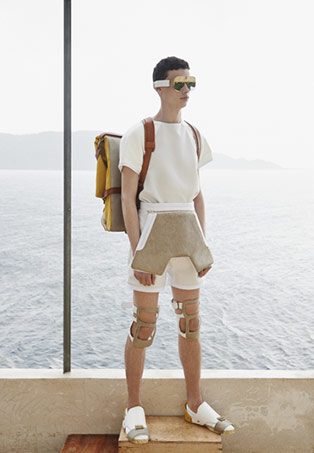 Sophie Harand
Sophie Harand – Top in wool and leather. Short wool and cotton pique, large pocket in cotton pique
and composite stone with cotton stitched inside. Eyeglasses banner leather, brushed brass, swivel glasses polycarbonate mount. Backpack in linen and cotton, waterproofed cotton, vegetable leather
and composite stone. Knee pads made of leather, composite stone and brass. Shoes in cotton, leather, composite of stone and brass.
About the photographers, it is very heterogeneous :
The fashion Festival also includes several collaborations and, among other things, an exhibition of the most beautiful Chanel creations, as evidence of the incredible mastery of all the trades involved in the art of sewing, as well as photographs of Karl Lagerfeld.
After their wedding in 1923, the husband of Noailles, belonging to a wealthy family, order for this residence nestled on the heights of Hyères. New fans, extremely sensitive to the arts, the couple maintained many painters, among other Salvador Dali, or sculptors such as Alberto Giacometti and many others. Acting as real patrons, they welcome home the most creative artists. Their house became also the set of surrealist film of Man Ray "Les Mystères du Château du Dé" in 1929.
The architect Robert Mallet-Stevens (1886-1945) applied the basic principles of the rationalist movement: spaces functional, refined, sober and rigorous. The villa has very modern and innovative facilities: swimming pool, hairdresser, squash. The decoration is entrusted to size in this area, including Eileen Gray.
Bibliography:
villanoailles – hyeres.com
Fr.fashionmag.com
Hyères – tourisme.com